X-Yachts take the highway at Boat Show Denmark

The shipyard presents the latest result of the motorboat investment - the elegant powerboat X-Power 33C is shown for the first time in Denmark with outboard engines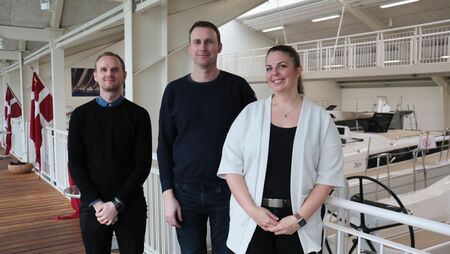 Since its founding in 1979, X-Yachts A/S has exhibited countless times at Boat Show Denmark, and each time the people of Southern Jutland have said my to the visitors in front of one or more sailboat models on the stand.
But this year's participation marks a small, historic breakthrough - the renowned Haderslev shipyard is coming to Fredericia with their new motorboat, the X-Power 33C.
After decades of successful sailing yachts, X-Yachts would like to have two legs to stand on - sail and engine - also seen in light of the fact that the motor yacht area is currently experiencing greater growth than the wind-driven boats.
- We launched the X-Power 33C at the beginning of 2021 as our first foray into the powerboat market. So it is natural for us to present it at the Boat Show as well; partly to raise awareness that we no longer only excel in the sailing yacht area, and partly to present the new variant with outboard engines, says marketing manager Dennis Pfeiffer Poulsen from X-Yachts.
He emphasizes that everyone can of course still come to the stand and talk about sailboats - among other things, visitors can hear much more about X-Yachts' new elegant cruiser Xc 47.
Difference in the markets
According to marketing employee Lærke Haldrup Hauschildt, it has been interesting to experience the differences in the two markets:
- We have a significant history and are a highly recognized brand within sailboats. But we cannot simply transfer our great reputation to motorboat customers, especially not internationally. So we are well underway in building up the story for a new target group, and the boat exhibition in Fredericia is an important element of that. We expect great interest and a lot of activity at the stand, says Lærke Haldrup Hauschildt.
Lightning fast and with a Scandinavian look
The exhibited X-Power 33C is equipped with two 300 HP petrol outboards and thereby differs from the previous diesel-powered inboard model.
- In terms of comfort, noise level, speed (up to 48 knots) and the ability to steer with a joystick, it gives a different experience. But in general it is a luxury boat that simply sails well. It is an elegant, rather open boat according to Danish standards, but with an unmistakably Scandinavian design, possibility to close off and with efficient heating systems on board, says Sales Manager Martin Lindbæk Luk, who is looking forward to showing the audience at Boat Show Denmark the new shot on the engine stem.
Boat Show Denmark takes place over two weekends, 24-26. February and 2-5 March 2023. See more at www.boatshow.dk.
MORE INFORMATION:
Fair manager Lars Søndergaard, FAIR C, tel: 75922566, email: ls@messec.dk