As an exhibitor at MESSE C, you are in safe and experienced hands - we have more than 100 years of experience as a trade fair centre. Below you will find information about booking a stand, registration fee, stand set-up etc
If you do not find an answer to what you are looking for, we are always ready to answer your questions. Contact us on 75922566 or messec@finishing this.messec.dk.
EXCITING ACTIVITIES
BOAT SHOW again offered in 2023 a number of exciting features from the central stage at the exhibition, just as water activities in the 300 m2 demo pool were among the audience magnets. Both facilities were offered along with screening of films on large screens to the exhibitors free of charge, as an additional exposure/activity opportunity.
Below you can see prices for the various boat berths we offered for BOAT SHOW 2023. The berths are available with and without entrance/exit and certified bridge construction. Click on the one you would like to read more about to see all the information.
Note that your own bridge requires certification or a building permit.
Boat stands without superstructure - min. 36 m2
36 - 89 m2 DKK 745,00 per m2
From 90 m2 DKK 695,00 per m2
From 180 m2 DKK 645,00 per m2
Accessory teeth with construction - min. 9 m2
Structure includes stand walls and sign frieze.
9 - 35 m2 DKK 1.145,00 per m2
From 36 m2 DKK 1.045,00 per m2


Accessory stands without structure - min. 54 m2
54 - 89 m2 DKK 830,00 per m2
From 90 m2 DKK 775,00 per m2
Mandatory registration fee per exhibitor DKK 3.975,00
The prices are valid for the individual manufacturer/importer or retailer, i.e. that several companies cannot join forces to obtain reduced prices. Possibly. co-exhibitors on the stand require approval from the BOAT SHOW's organizer and payment of a registration fee per exhibitor.
Stand prices are incl. daily vacuuming of the floor area. All prices are excl. VAT.
The registration fee and stand rent are due net in cash when the invoice is sent.
The invoice will be sent by email.
When you have purchased a stand at the BOAT SHOW, you have the option of purchasing various technical services, from furniture, sockets to food and drink.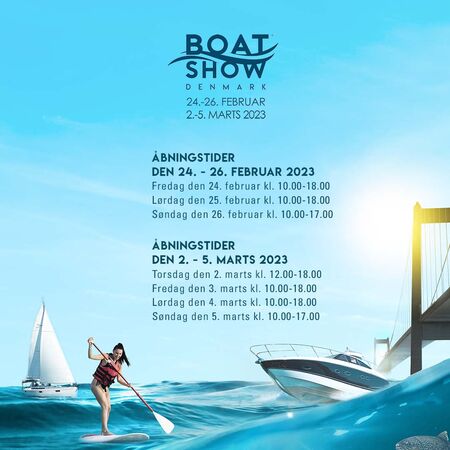 Download picture incl. date and opening hours
- Just to look up on your social media profiles.
The picture is 1920x1920 .jpg and here your connections can see the date of the fair and the fair's opening hours every day.
---