New sailors must be taken by the hand at the Boat Show
The boat exhibition in Fredericia must contribute to maintaining progress in the maritime industry, believes the chairman of Ship & Boat, Jens Quorning
Since 1967, Quorning Boats has been building the exclusive Dragonfly trimarans, and in the past 55 years the company has naturally seen ups and downs in the industry.
But according to director Jens Quorning - who is also chairman of the industry association Ship & Boat - it will still take many years to match the boom in the industry that the corona era has helped to create.
- You have to say that "the blue Danish shelf" has really become enormously popular, also with the younger generations. People want to be on the water, and this applies from small SUP boards to large sailing and motor boats.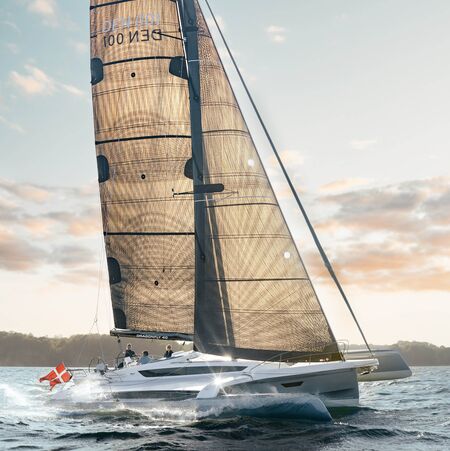 The industry has received an enormous boost, which we had not seen coming before the pandemic, states the director. In the spring, Dragonfly number 1000 left the shipyard in Skærbæk near Fredericia, and the full order books show that many more are on the way.
- I am sure that the industry's progress will also manifest itself at the next Boat Show in Fredericia. But it is important that we warmly welcome all the new faces, both in everyday life and at the boat show. I know that there will be a number of measures and activities from the Boat Show's side that will contribute to embracing the new customer groups, and that is very positive, emphasizes Jens Quorning, who will, among other things, get the Nordic premiere of the brand new Dragonfly 40 Carbon Performance.
A good start to the season
At one of the country's largest marine stores, ShipShape at Rungsted Harbour, they have also met the many new sailors, and director and owner Martin Rasmussen is looking forward to expanding their acquaintance at the floating boat exhibition in Ishøj and at the Boat Show in Fredericia.
- We would of course really like to talk to the new sailors - and overall we have an expectation of at least matching our result at the last Boat Show, as well as getting a good start to our season, he says.
In collaboration with the core suppliers, ShipShape offers a large equipment stand in Fredericia. The Rungsted company is also an importer and dealer of the boat brands Cranchi, Dufour and Rhea, but as in many other industries, the supply situation is a challenge at the moment. However, Martin Rasmussen expects to be able to present a 30-foot Cranchi in Fredericia, he states.
The director makes no secret of the fact that the supply chain as well as rising interest rates and inflation put some clouds on the horizon in an industry that is sensitive to economic conditions, but nevertheless - or perhaps precisely because of this - it is important that the industry shows the flag and warmly welcomes both new and existing sailing enthusiasts to Boat Show, he emphasizes.
Fredericia Boat Show takes place on 24-26 February and 2-5 March 2023 in MESSE C Fredericia. See more at www.boatshow.dk.
MORE INFORMATION:
Fair manager Lars Søndergaard, FAIR C, tel: 75922566, email: ls@messec.dk