Northern Europe's largest kayak center exhibits at Boat Show Denmark

Kajak Freak has chosen Boat Show Denmark as a new showcase - the public can experience lots of kayaks, canoes and SUPs and try out the gear in the large test pool
There will be ripples in the large test pool when the company Kajak Freak makes its exhibitor debut at this spring's Boat Show Denmark in Fredericia.

Kajak Freak is Northern Europe's largest kayak centre, and in Fredericia they present a wide range of kayaks in plastic, fibreglass, touring kayaks, sea kayaks, fishing kayaks, white water kayaks, canoes and SUP boards as well as the latest in gear and equipment.
- We have previously exhibited at Ferie for Alle, but this year we are going all in at the Boat Show in Fredericia. Here, the audience is oriented towards life on the water, and it is a good match for us, who regard the water as one big playground, explains journalist Pia Jeppesen from Kajak Freak.
Adventurous development
Kajak Freak was founded by Brian Justesen on 12 square meters and has since grown to become the largest of its kind in Northern Europe.

The center has a total of 2500 square meters under roof in Vinderup by Holstebro, and there are always more than 1000 kayaks, canoes and SUP boards in the shop, exhibition and warehouse. The company has its own boat jetty at Handbjerg Marina, so that customers can test kayaks in the waters of the Limfjord, and Kajak Freak is also responsible for the canoe rental on Storåen.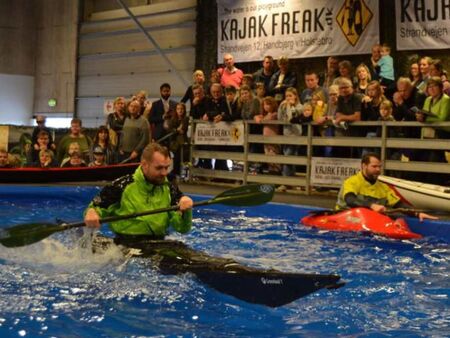 - When you visit our stand at the Boat Show, you can look forward to good advice, the opportunity to test and just generally an extraordinary experience. Regardless of whether you are looking for a "summer house kayak" for 5.000-10.000 kroner or the best sea kayak, we have it.

We also present equipment and clothing under our own brand, "By Kajak Freak", which we designed and developed ourselves, says Pia Jeppesen, who, together with the rest of the team, is very much looking forward to meeting the audience over two weekends at Boat Show Denmark.
There are more than 160 exhibitors on the list for this spring's Boat Show Denmark, which takes place 24-26 February and 2-5 March 2023.