The public can soon look forward to Denmark's largest boat exhibition
After corona cancellation in 2021, the Fredericia Boat Show is back in spring 2023 - exhibitors and an estimated 30.000 boat enthusiasts are looking forward to the reunion
On the last weekend in February and the first weekend in March, MESSE C Fredericia can finally once again welcome Denmark's largest boat exhibition, where the latest sailing and motor boats are presented together with news in equipment, water sports, recreation, angling and more.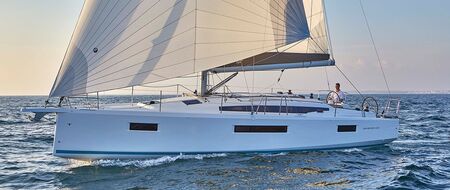 Among the expectant exhibitors is TEMPO Bådsalg from Ishøj, which has participated in the Boat Show for three decades and which hosted a successful floating exhibition this summer.
- This is the 16th time we have come from the Port of Ishøj to Fredericia, and we are very much looking forward to the involuntary corona break. More than 60 percent of our turnover is in Jutland, so the Boat Show is an important exhibition event for us, where we kick off the spring sales, says owner Henrik Jørgensen.

TEMPO presents two quality boats from the French Jeanneau shipyard; a modern 41-foot sailboat and a 37-foot motorboat.
Dansk Marine Center from Risskov near Aarhus has four large boats from the German Bavaria shipyard; two sailboats in 38 and 42 feet and two motorboats in 36 and 41 feet, as well as a number of Mercury engines.

- I expect great audience interest in Fredericia, also because it has been so long since the last time. In addition, there have been many new sailors in the corona era, and even though it is a slightly uncertain world at the moment, we do not experience that people want to get rid of their boat. They have acquired a taste for the sailing life, and they feel safe and comfortable sailing in the Nordics, says Christian Due Hammershøy, who is the new captain on the bridge in Risskov.

In Fredericia will Dansk Marine Center also tell the customers about the advantages of DMC's recent merger with Mathis Værft in Aalborg, he states.
Pro-Safe Marine from Korsør are experts in RIB boats, and they have two stands at the Boat Show:

- On one stand we have the latest from Dutch Whaly, which produces robust boats made of strong plastic. They are aimed at owners who may not have the time or desire to polish a fiberglass boat every spring, and they are perfect at the summer house, as a work boat or a robust fishing dinghy, says managing director Rasmus Laustsen, who of course also has a stand with different types of RIB boats.

- It is important for us to show off our products and be where the customers are - especially in these slightly special times. We are very much looking forward to meeting current and potential customers in Fredericia, says Rasmus Laustsen, who also has several good trade fair offers and "package solutions" at the exhibition.
The Fredericia Boat Show takes place over two halves - 24.-26. February and 2-5 March 2023.